CBD is a naturally occurring constituent which can be derived from either marijuana or hemp. It is the most abundant non-psychoactive cannabinoid found in 'cannabis' which is the Latin genus name for both marijuana and hemp.
The type of 'cannabis' that we use for our CBD products and hemp extracts is called industrial hemp. Again, 'cannabis' doesn't just mean marijuana but it is the genus name and general umbrella term which all forms of marijuana and hemp fall under.
As all of our products are derived from industrial hemp they should be considered to be hemp based products that are rich in CBD, or simply products that contain a "hemp extract", since they are typically full spectrum and therefore will usually contain many more active components than just CBD, like CBDa, CBC, CBG, flavonoids, terpenes etc.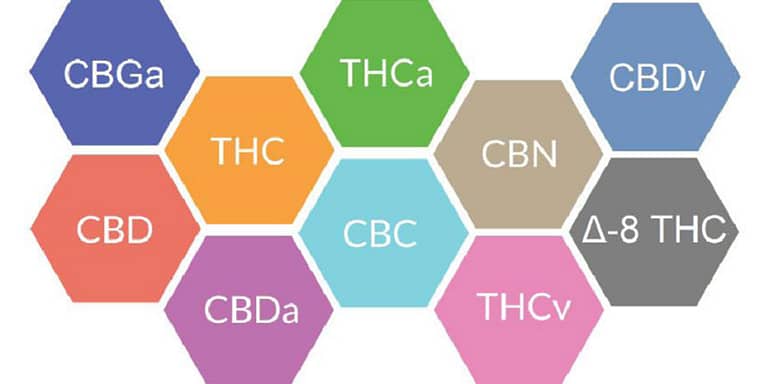 Is there a difference between Industrial Hemp and Marijuana?
While scientifically speaking Industrial Hemp and Marijuana are basically the same type of plants, with a genus and species name of Cannabis Sativa, they have a drastically different genetic profile:- Industrial Hemp is always a strain of Cannabis sativa, while marijuana can be either Cannabis sativa, Cannabis indica, or Cannabis ruderalis.
There are also major differences in how industrial hemp has been bred compared to a marijuana form of Cannabis sativa. Typically speaking, industrial hemp is very fibrous, with long strong stalks, and barely has any flowering buds, while a marijuana strain of Cannabis sativa will be smaller, bushier, and full of flowering buds.
99% of the time marijuana will also contain a significant amount of THC (which is psychoactive) and only a very low amount of CBD (which is non-psychoactive). It is because of this fact that Marijuana is illegal in most countries, however, when allowed legally it can also sometimes be used medicinally as well.
By contrast, Industrial Hemp will usually naturally have a high amount of CBD and only a tiny trace amount (0.2% or less) of THC. Because of this completely non-psychoactive cannabinoid profile, hemp is now legal in most countries and therefore is ideal for people who are looking to experience the possible benefits of 'cannabis' but without any of the 'high' that is often associated with it.
At the end of the day CBD is going to be CBD and whether it comes from marijuana or industrial hemp there is not going be any difference, and some of the very latest industrial hemp varieties are now being bred specifically to have higher yields of non-psychoactive cannabinoids and terpenes also.
Research has found that the human body will actually produce certain cannabinoids on its own and has two built-in receptors for cannabinoids, called CB1 receptors and CB2 receptors. CB1 receptors are found all around the body, but many of them are in the brain. The CB1 receptors in the brain deal with coordination and movement, pain, emotions and mood, thinking, appetite, and memories, among others.

THC attaches to these CB1 receptors. CB2 receptors are more common in the immune system. They affect inflammation and pain. It used to be thought that CBD acts on these CB2 receptors. Further research is needed but it now appears that CBD does not act on either receptor directly, instead, it seems to influence the body to use more of its own cannabinoids.

Because of the unique way that CBD works, it could potentially have many benefits and has already been independently studied many times. And while we cannot say for sure here if these independent studies results are accurate or not, we do encourage anyone who is at all interested in CBD and what it may be able to do for them to conduct their own research, as there is already a great wealth of knowledge and information available regarding this increasingly interesting component of hemp and its many possible applications in the public domain
* '10%Off' Coupon code must be applied at checkout also.
Laboratory Testing
Third party laboratories analyze all of our hemp for cannabinoid potency, heavy metals, bacterial / microbial life, mycotoxins, and pesticides. All oils, extracts and isolate will have been tested for potency, heavy metals, and pesticides. Certificates of Analysis (COA's) for individual products are also available to be viewed and can be found here.

Dosage
The fact remains that everyone is in a different place and will react differently to CBD. A serving size or dosage of CBD will differ for each person. It is best to start small and then gradually increase until you experience the desired result. It is not thought to be possible to overdose on CBD, however it is now generally recommended that you should start at a minimum dosage of 20mg per day and not to exceed a maximum dosage of 70mg per day on average, unless a doctor has agreed a higher amount..

Disclaimer
Always consult a doctor before using any new supplement. Not suitable for pregnant or lactating women. Our products are not intended to diagnose, treat, cure or prevent any disease. Our newsletters are intended to provide the reader with general information only regarding CBD that is already available in the public domain.